Welcome to the November 2023 CampusCE Connections Newsletter!
The staff at CampusCE has implemented a new customer success program.  We are reaching out to you for your opinions on how CampusCE can improve your experience.
These brief, 30-minute calls are a chance for you to share your wish list, to open lines of discussion, to ask questions and to update your account contacts.
We know your time is valuable, so when you receive a reach out from your CampusCE team members to schedule a call, please let us know what days and times work best for you and your team.
We are excited to spend time with you.
OLLI/LifeLong Learning:
 Be in the Know with Taki and Anna.
To create a more collaborative environment for CampusCE lifelong learning partners, the CampusCE Lifelong Learning team is excited to host the first Lifelong Learning Winter Workshop (oooo, ahhhh, yay)! This will not be a workshop about individual support issues, but a place to share ideas about diverse ways your interactions in CampusCE are beneficial to your program. If you have ideas for content, please email: annam@campusce.com. If no ideas are brought forward, then we will subject you to Tim's bad jokes (if ya know, ya know). We are excited to share this new adventure with you.
What: Lifelong Learning Winter Workshop
Location: Online
Audience: Paid program staff, especially those who regularly work in CampusCE
Date: Friday, March 1, 2024
Time: 9:00 Pacific/10:00 Mountain/11:00 Central/ Noon Eastern.
Duration: 90 minutes
Topic: Please send your ideas to annam@campusce.com. This is your workshop!
Instructor Portal – Gives instructors access to manage their rosters, attendance, grades, and profile/biographical information.
ProTrain Integration – Integrate with your instance of ProTrain.
Recommendation Engine – Display recommended courses to students and members while they browse and enroll within the Student Registration website. The recommended courses will appear on multiple pages including Categories, Course pages, Shopping Cart, Sliding Cart, and Check Out pages.
Course Proposal – Collect course proposal information through CampusCE.
Scanning Codes for Attendance – Providing scanning codes to students so they can check in at the event/class, and you can better track attendance
Abandoned Cart Marketing – A tool that allows you to remind students that they have an incomplete purchase.
Meet our Executive Director of Client Services –
Michelle Shideler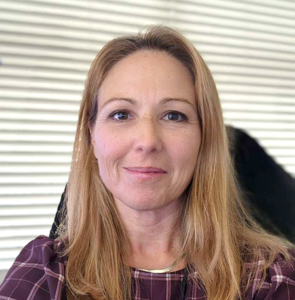 Michelle Shideler has been working with CampusCE as both a client and/or team member since 2014. She has been a director of two lifelong learning organizations for more than 25 years and brings a wealth of knowledge to the daily workings of running a lifelong learning organization using CampusCE.
She works closely with our Support and Implementations teams to help bring top-notch support and client needs experience to our customers at CampusCE. Being part of a well-rounded and passionate team, Michelle believes the success of our customers helps bring success to the organization. What
you may not know about Michelle is that she lives in Florida, is addicted to spending time "at the beach," and she loves to work on stained glass projects. One of her main passions in life is helping others learn and grow.
CampusCE Customized Training for Your Team
Onboarding new team members can be time-consuming!  Let the CampusCE training team help your new folks save time, gain confidence, and hit the ground running with a CampusCE custom training program.
Setting up training is easy.  We'll start with a quick needs assessment consultation, then design and deliver a live, instructor-led training program specifically tailored to your team's needs.
If your team needs training, email support.team@campusce.com to schedule a free consultation with a CampusCE industry expert–and super-charge your onboarding learning curve!
Alt Text for Images
When you add an image to your Courses, Sections, or Categories, the WYSIWYG or CKeditor, gives you the option to add Alt Text. Use it! You want to always include descriptive alt text for images. This not only helps visually impaired users but also improves your site's accessibility. And, alt text has the added benefit of improving your SEO (Search Engine Optimization). Want to have fun with AI and generate alt text for your images? Marketing site ahrefs has an alt text generator that is AI-powered. You just upload your image and AI suggests the text. (Remember it is always good to review any text AI generates for clarity.) If you're more interested in writing alt text yourself, Perkins School for the Blind has some terrific tips for writing impactful alt text.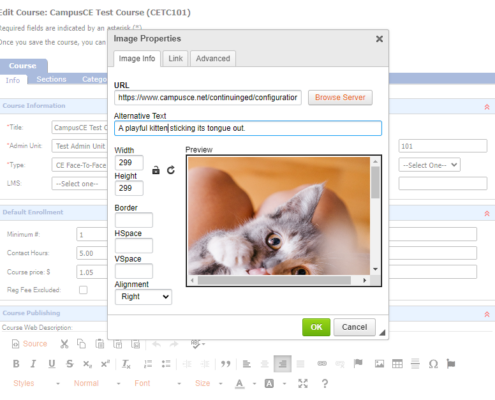 Review Header and footer links
Has it been a while since you launched your site? Check your header and footer links to make sure they are still linking to relevant (and working) web pages or social media profiles. If they need a refresher, submit a ticket to support_team@campusce.com with the correct information and we will get them updated for you.
Did you know that there is a Documentation area or Help Center accessible within the CampusCE system? You have access to view the documentation, FAQs, past Webinars, your support tickets, and more! Open 24/7, 365.
How Do I Access the CampusCE Help Center?
If you are in the administrative portal, look for the blue "Documentation" in the top right corner and you will be redirected to the CampusCE Help Center.
You may also access the Admin Site login page or by visiting https://support.campusce.com/hc directly.
Please follow the steps below to retrieve your password.
Click on "Have you emailed us? Get a password"
Enter the email address that you use with CampusCE
Click Submit
Instructions will be sent for logging in for the first time. Once you have logged in, you will be able to see:
• FAQs & Resources This includes general system-wide documentation such as information on payment processors and HTML.
• Webinars This includes links to recorded webinars that you can view.
• Existing Tickets This will show all your open tickets. Depending on your permissions, you may access all tickets for your organization, including those not involved with you.
• Logout Logs you out of the documentation and support portal.
• Search Box searches through documentation articles.
• Categories of Documentation (Profiles, Courses, etc.) Select a topic category to see documentation articles.
If you are not finding what you are looking for or see an article that may need updating, please let us know by submitting a support ticket to support.team@campusce.com.